I kinda thought that might get your attention and it's TRUE too so, there ya go!
Ok, everyone, I turned FIFTY – 50!! during this hiatus from writing. Hope it explains some things. I had a busy summer of working until I left for Italy, a week before my birthday, which is August 25th. I had the fucking PLEASURE of staying in Italy for a full five fabulous weeks! Talk about an insanely sensual experience. I was ecstatic much of the time. If you haven't been there, it's the things we always hear about: the food, the wine, the wine country, the gorgeous men and women, there's Sorrento on the Sea with its plethora of seafood and lemons, and the Sea itself, there's the ART and HISTORY in Rome and Florence. I fell in LOVE with BERNINI and particularly one of his sculptures in the Gallery Borghese, the "Rape of Proserpina" (Pluto abducting Persephone) from the 1600s. Not necessarily a pleasant topic but let me tell you-it was literally a full body orgasm for ME as I experienced that sculpture in person. Here's one of my photos of that sculpture: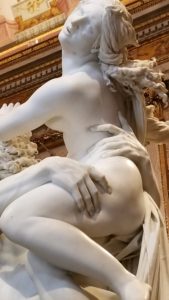 Just LOOK at the size of his hands and his fingers grabbing her buttocks! This is marble we are talking about. Yet, there is an incredible realness in his fingers deeply imprinting upon her flesh.
Here's also a link to give you some detail concerning that incredible sculpture that I wish for ALL of you to experience in person. But at least take a look at this glorious piece from all angles:
https://smarthistory.org/bernini-pluto-and-proserpina/.
Dr. Steven Zucker and Dr. Beth Harris, "Gian Lorenzo Bernini, Pluto and Proserpina (or The Rape of Proserpina)," in Smarthistory, November 27, 2015, accessed December 31, 2018, https://smarthistory.org/bernini-pluto-and-proserpina/.
I also saw THE DAVID on my actual birthDAY. Talk about a sexy mother fucker!!!! Need I say more? No. Here's my favorite picture, again with the HAND (notice the veins too):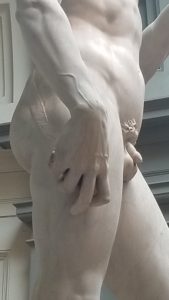 As my friends know, it was a tribute for me to be at the base of that particular statute on the morning of celebrating my birth. But who would've ever thought I could achieve orgasmic BLISS by viewing art. Truly incredible.
MAYBE-MAYBE NOT-PROBABLY
I was surrounded by guilty pleasures daily in Italy, aphrodisiacs: wine, seafood, HOT men and women, that accent oh WOW. The train brought me an extremely FUN experience, one I will always remember. What I'm about to tell you may or may not have happened. It may be 5 experiences merged into one, it may be my experiences merged with others' experiences but let me tell you this: wow, what a fucking good time! Remember, I was in Italy for five weeks but you know how I am. I like to maintain SOME sense of privacy. My disclaimer remains the SAME: "Nothing Lily says is to be construed as anything other than real, made-up, fantasy, from a dream…or any combo of these. If you think it's about you – it probably is (not really)."
I was on the train. Traveling from Verona to Venice. ALL kinds of people travel via the train. Mostly I traveled 2nd class; unless I had a long way to go – then I would buy a 1st class ticket. This was a fairly short trip so I was just in the regular coach cars. Seats are assigned. I happened to get seated facing a particularly HOT hot HOT Italian man. So hot I ended up putting my sunglasses on because I could NOT stand looking at him, and definitely had a difficult time meeting his gaze. He was unabashedly checking me out from head-to-mother-fucking-toe. That's the thing about the Italian man – he has no scruples about LOOKING at a woman head-to-mother-fucking-toe. When I could tell he was actually taking photos of me – I gave him a LOOK that said, what the fuck?!!? The sunglasses helped so I could at least kinda/sorta divert the attention away from my eyes and also go ahead and check him out head to toe. He was FINE. Dressed fine, typical fucking Italian – smoking hot and beautiful. Their genes – I tell you, are unmatched as far as I'm concerned.
We continued our little game of coyness, just like animals. I'm a huntress. I watched a buck court two little lady does the other night… him approaching them…the dance. It was so adorbs. But once he got close enough to get a whiff, he didn't seem so interested anymore. Guess she didn't smell as good as he'd hoped. Isn't this true with us humans too? We do a little dance and when we get closer we may realize: hhhhhmmmmm, not for me, and move on, or try to move on as gently as possible. Gentle isn't always the best approach. Or, gentle doesn't always work with the human males. In fact, it can take calling the police sometimes to get them to get lost (see my previous blog post for that story: "I Want To Piledrive You"; Nov. 27, 2017).
As a huntress, however, I won't play FAVORITES, especially if it's getting towards the end of hunting season. I'm going to harvest that buck that happens to be in front of me, no matter his age (granted, he has to be legal; wink wink), or his location, or his anything. This man was kinda like that for me-I had to have him. He did look and smell really good. It was clear he wanted to consume me, and I let him. He gestured, I followed. Our bodies locked together.  Our hands groped all the usual places the hands can reach. His mouth covered mine and his teeth found their way to my lips. They were swollen and bruised for two days in a way they've never been before. How does a man manage to fully TAKE me through a kiss? I'm not quite certain but it happened on a train from Verona to Venice and I'm forever changed. When that happens, you kinda want to get on your knees and suck their cock, even if it is in the bathroom of a train racing through Italy!
Really, though, there's only one cock I've LOOOOOVED sucking in my life. In general, I like to suck cock because I know the man will love it. I'm good at it, or, so I've been told. But that's because I've had lots of practice sucking the one cock I really have loved so very much. It also explains why there's a dirty dildo on my floor right now. I lured my lover over for some lunch sex by promising I'd suck his cock. Which brings up another thing I really like: taking a long lunch to have sex. If it involves sucking cock, then maybe I will get off without his cock. Because, yet ANOTHER thing I really like is getting fingered to orgasm. In fact, it happened, just today. Lunch sex is fun because it's gotta happen a little bit fast. I prep. I like getting my pussy wet and plump for my lover before he comes over. That can be accomplished in a number of ways, of course, and I certainly mix up the techniques. First there's always the basic clit massaging. Works every time. Then there's spit. Spit on my fingers and rub my pussy, put my fingers inside myself. I also like to spank my pussy lips. Gets them plump and pink… and gets me wet. I will certainly introduce a little oil if I lay down in bed while waiting for his arrival. That can quickly bring me to orgasm, so I have to be careful. 90% of the time I SAVE the orgasms to share with him. Sometimes though, I go ahead and have a couple orgasms before he even arrives and start massaging my g-spot. That means I'm gonna soak him with not only my juices, but my squirting!!
The strap-on DREAM.
If you've read my blog regularly then you know I've often spoken of my blue dong. You know how much I love it. It's very effective when suctioned to a chair. I can watch porn and have two free hands while using it this way too.
I've been on a kick this week watching women fuck with strap-ons. I know it's "to each their own" but what's the deal with the women fucking each other just like the men fuck the women in porn? It's the same exact routine except 2 chicks with a strap-on; one wearing the strap-on making the other one suck the strap on. That does nothing for me. I think because I don't get the point of gagging on a piece of rubber when it has zero feeling for the woman wearing the strap-on. Is she really getting off on that? The power rush of shoving her fake-dick into the woman's mouth… is that it?
I'd just like to see a different routine with two women and a strap-on. Not the usual: give some oral then the girl gets pounded in her ass and pussy by the girl with the strap-on. I was not very amused and moved on to other subjects.
What's UP (my butt)?
Hey, have I ever talked about butt plugs? Strap-ons are making me think about butt plugs. I honestly don't think I've talked about butt plugs so let's discuss those for a hot minute.
True confession: I have one! They are super super fun and stimulating. Since I've stated in this post how elusive I can be – I will go ahead and confess to you that I have a butt plug and it involves an animal tail. Something like this: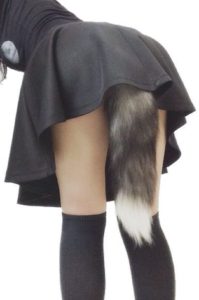 I think I will just leave it at that for now and let your mind race.
What's UP (with your lame-ass-ness)?
I suppose it's because of pictures like that one that I get ALL kinds of interesting offers. Or, am I just a magnet for men who want to get off and can't get their partners to do it for them in the way they want it to be done? Either way, I get offers and maybe it's because I so openly and blatantly discuss sexuality that it comes across as if I want to suck every man's dick, whether he's single or not? Let me set the record straight: nothing could be further from the truth (and again reference above, there's really only ONE cock I've actually LOVED to suck, to date. Yes, I'm willing to find the next one; but NOT if you have a girlfriend or wife already.)
Case in point: a guy contacted me a few months ago. An ….. "acquaintance." He's not a friend but someone I've been intimate with. And so has one of my sisters. In fact, SHE broke his heart, like 25 fucking years ago, but I reminded him of HER-and he literally RAN away. That's fine, really. I certainly understood. I also thought it was kinda silly because, as I said, we are talking a 25-year gap between him fucking her vs me; but she did break his heart. So, there's that. I prob would've been willing to give him some time to work thru that, and even supported him to a certain extent. But as I said – he ran. I didn't take it personally. Quickly moved on. We had only fucked once anyway (decent sex though). We had no bond.  We do have lots of mutual friends. That can get tricky for people who are trying to cheat. But when men are thinking about getting their dick off – they forget about the details sometimes.
At some point in the past few years I ran into this guy and he asked me for my phone number again. I said no and walked away. That was an easy answer. You don't have my number; you don't get my number again.
Then fast forward to a couple of months ago. I get a FB message from this guy asking about Italy. Seemed out of the blue but I answered and asked him if he was going to Italy. I assumed the answer would be yes. It was a no, just that he hoped to someday.
Ok, guys. Listen up. Smart women KNOW something is up right then and there, ok??? I knew immediately there was an intention behind this random "reaching-out" about Italy. I still didn't assume what it was at this point but figured it wouldn't end there. A week went by. Then a second message: "would you consider meeting up again sometime?" Hmmmmm now I'm intrigued. I say, yes. I'm thinking – we'll have a beer and check things out. We exchange phone numbers. Then he texts and wants to SET UP a time to get together (days in advance), tells me to "let [him] know when I want it," and also asks, "you cool keeping it casual?"
LMFAO. SMH. WTF.
Just so happens I was hanging out with a mutual friend the next day. Told her the details I just shared w/you…. and SNAP got the information I was suspicious of: he has a girlfriend. Let's just say he and I exchanged a few very poignant messages back/forth about the propriety of his engagement with me which started with me sending him a screenshot from Facebook of a photo of him and his girlfriend standing next to each other.
On the other side of the spectrum, when you're almost 50 and a 22yo hottie begs you to fuck him, do you fuck him? Yes, absolutely. I didn't. But, you, you fuck him. It just so happens I met the lad at an inopportune time. I simply could NOT stay up all night due to my heavy work load, leading up to my Italy trip. And he tried everything: he showed me his hard cock, he grabbed my purse and ran away with it to try and lure me to his house, stole some things from my glove box. LOL childish boy games apparently. It was cute, but it didn't turn me on at all. In fact, it only annoyed me.
FOXY Lady.
Just to elaborate a little bit more on that furry tail I shared with you above – the other night I was contemplating a topic for the blog (animal sex) and I actually thought to myself: but I don't want to offend anyone. Hahahahaha. Then I thought: My goodness what has happened? How have I developed a sense of shame all of a sudden? I have a little bit of an obsession with animal sex. No, I have not engaged in it nor do I want to nor intend to. I do recognize that FANTASY is often waaaaaaay better than reality. I'm sure most of you can relate. Not to the animal sex part. But to the fantasy part – where after pining for someone for months, and you finally have sex with that person, and it's a DRAG and suuuuper disappointing and then don't you wanna go back to the beforehand of just living the fantasy?
I often wonder if this would be true of my fantasy of having sex with 2 guys at once. Am I gonna regret that if I do it?? Probs not, huh…….
Whoa I have to take a break from writing to masturbate that thought got me so HOT. BYE.
Xoxo
Xoxo
Xoxo
Xoxo
Xoxo
Xoxo
Xoxo
Xoxo
Xoxo